31/03/2021 - Minna Kilpeläinen
Newsletter, HIPPA-project, 2021
HIPPA project ends: thank you all and welcome to TUTTUnet -network!

What we achieved?
ERDF-funded 6Aika: HIPPA – Wellbeing and better service housing through digitalisation has been an inspiring and diverse project. During the two and a half years 44 multi-disciplinary experts from Helsinki, Tampere and Oulu have worked with nearly a hundred companies, of which more almost 50 have participated in HIPPA´s activities.
We have communicated our activities and results diligently: during the project, a total of about 100 articles have been published on HIPPA's blog and TUTTUnet – Product developer´s test and support network, 40 videos on HIPPA´s and Metropolia's YouTube, 7 podcasts, 4 VR tours and 1 AR tour. We have been seen extensively in social media. Developer clubs have brought together companies, service providers, experts, students, citizens and organisations on social and health-, ICT- and construction field. In Developer clubs, service housing has been designed to be better in a very inspiring atmosphere.
"It has been amazing to develop things together with experts who have the knowledge and skill to say it in a way that benefits many others widely. In particular, I hope that companies and students will find content in the articles that will help them move forward in their development work. Very grateful and excited I am that service housing Digitalisation has aroused widespread interest in multi-disciplinary, which so far has helped us to better understand the whole topic. Together, we have also learned to discuss, enrich our understanding of things and get excited about new perspectives", says Toini Harra, the project manager in charge of the project, from Metropolia UAS.
Projects come and go. In the HIPPA project, we learnt how universities can act as bridge-builders between companies and service housing units. This role is particularly well suited to universities because both actors provide meaningful learning experiences for college students.
"The HIPPA project has been a real bridge-builder between different actors," says Päivi Meriläinen, project manager at the Haukipudas Welfare Center in the city of Oulu.
"Users and developers have genuinely encountered in the project, which is ultimately reflected in well-being and better service housing," says project manager Kirsi Jokinen from Oulu UAS.
"Through user trials, we have got new experiences and feedback from the daily lives of the residents. With their and staff's feedback we could support the product development work of the companies", says Mirja Kiiski, project manager from Myllupuro Senior Centre, City of Helsinki.
HIPPA has been able to develop the user-orientation of product development, which saves companies from misguided paths and produces better solutions. Both improve the cost-effectiveness of product development and improve the marketing and commercialization of products and services.
"The project has opened doors for companies to genuine service housing environments and provided valuable user feedback for companies' product development", says project manager Tarja Heinonen from Tampere UAS.
HIPPA hears the user´s voice
In the presentation video of the HIPPA project, we gathered examples of what we did in HIPPA. It was important for us to hear the voice of the user and provide needs-based product and service development. Our operations were guided by genuine enthusiasm and joy from new innovations.
Read more and watch the presentation video of HIPPA-project

TUTTUnet – Product developer´s test and support network
For the implementation and dissemination of the HIPPA project, we produced the TUTTUnet – Product Developer´s Test and Support Network -online service. TUTTUnet will continue to serve entrepreneurs, multidisciplinary experts and students, as well as users of products and services.
TUTTU net supports developers of digital products and services in cooperation with the social and health-, construction- and ICT industries, as well as business innovation centers, hubs and test labs throughout Finland and internationally. The results of the site were produced in the development of digital products and services used in the welfare and health sector and in service housing, but the results can be applied more widely in user-oriented product and service development.
There are several test and support service providers linked to the online service, which entrepreneurs can contact and access product development processes through. The network of service providers established in the locations of HIPPA project continues to expand, including internationally. TUTTUnet is also a rich treasury of information. HIPPA project actors conducted numerous articles, videos, podcasts, and VR and AR tours of the experiences and insights they gathered during the project to assist product developers in their processes. TUTTUnet also presents graphical images of how joint development, testing and user experiments, as well as commercialization processes, should be carried out and who is involved in the processes. TUTTUnet features company references, which can also be used by product developers to find new partners.
TUTTUnet presentation video in Finnish, script in English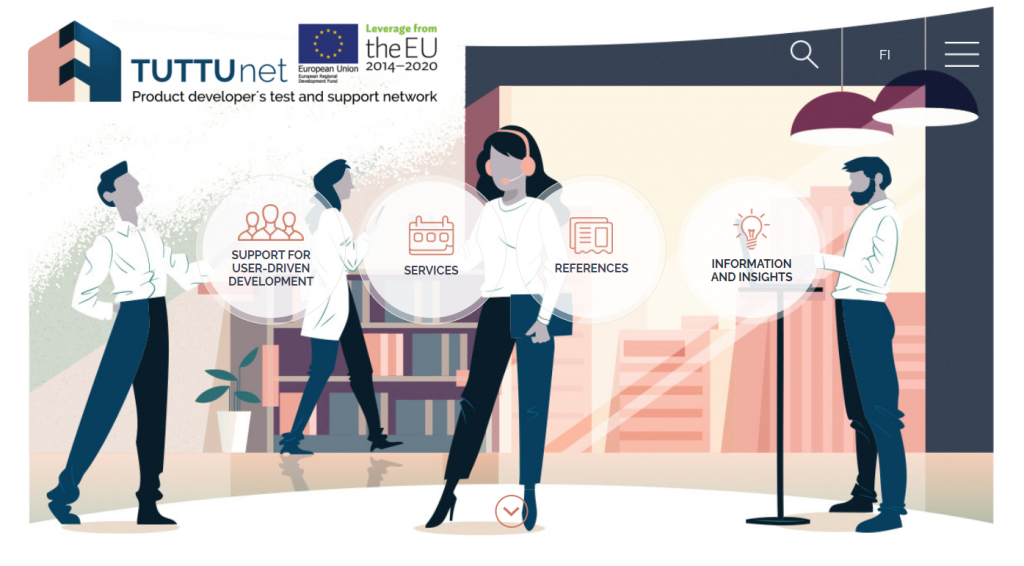 Virtual tours make testing environments familiar remotely
The VR tours published on TUTTUnet are a great way to get acquainted with various authentic and simulation spaces where testing of digital products and services can be done.
Explore the environments here:
Enabling Home, Oulu UAS SimLab
Home Environment, Metropolia UAS
Kustaankartano Senior Centre, City of Helsinki
Myllypuro Campus, Metropolia UAS
An AR story was also made in Metropolia's Home Environment, which can be followed in the Myllypuro campus. The story is made in Finnish.

How did Covid-19 affect on HIPPA?
Covid-19 affected the parties involved in the HIPPA project in different ways. The staff and residents of the service housing came under severe pressure. As everyone else, HIPPA switched to remote work and the rest of the HIPPA´s events were held as webinars. But the Covid-19 era has also been a time of creativity, as right now new innovations are needed to make everyday service housing easier, both in senior centers and at home.
Due to Covid-19, the service housing units were closed to outsiders, which limited the implementation of user trials of the products. Many of the HIPPA´s testing processes had to be interrupted or postponed due to the corona. We started to invest in a new kind of remote testing process and got good experiences from it. Tampere UAS prepared a testing a remote rehabilitation program, which worked very well. Testing of products or services that had already been installed in the service housing units for testing prior to closure could continue.
Even before this new situation, we had become accustomed to using remote connections to hold meetings and attended a wide range of webinars, but we also began to develop methods for implementing co-creation events remotely. Distance connections do not replace intimacy and the importance of body language, expressions, and gestures in interacting with each other, but on the other hand, it offers us new opportunities to participate when being present at the locations bring difficulties for one reason or another.
Despite the Covid-19, HIPPA proceeded on schedule. We were given an extension of the project until the end of March 2021, during which time we developed the network and translated the site into English. The preparation of the TUTTUnet online service received sufficient resources from project actors after the cancellation of other activities, and we were happy about that.
The first international webinar of TUTTUnet
The first international webinar of TUTTUnet was held on Thursday 18th of March 2021. The webinar was organized by Metropolia and Tampere UAS and it gave us an inspiring morning session with innovative digital products and service solutions. The purpose of the webinar was to start an International network of innovation partnership concerning digital housing solutions and devices for elderly people. It was a great pleasure for us to host this high-level event with such qualified international and business partners.
Read more about TUTTUnet international webinar


The essence of the HIPPA was crystallized in the final webinar
The three-hour final webinar of the HIPPA project on 2 December 2020 was held with the theme Best Things Are Made Together (see in Finnish here). Laura Arpiainen, Professor of Health and Welfare Architecture at Aalto University, gave the introductory speech at the webinar. Futurist Perttu Pölönen tuned in to think about the technologies and living of the future, and the grand old lady of Finnish dance Aira Samulin told about her digital home, where she can live her unique life safely with the help of digital monitoring software.
The event was hosted on Metropolia´s YouTube channel by Toini Harra, an expert in collaboration and co-development and a senior lecturer in occupational therapy, and Panu Karhinen, an expert in elderly work and gerontology. Metropolia's project actors together with the students facilitated the co-creation of the home of the future in Zoom. HIPPA´s activities came to life with the help of videos and drawings of Tussitaikurit.
According to Laura Arpiainen, safety, a sense of belonging and a person's dignity are very fundamental elements in well-being. Developing community in housing is a key factor. Arpiainen also reminded that the elderly are a resource for all societies.
"We need to stop thinking that aging is a problem. Older people are a great resource. After all, we (in Finland) have one of the most educated populations in the world. You have to do things with the elderly, you don't necessarily have to do things for the elderly. Let's do it together", Arpiainen summed up.
"We need to develop solutions that are better, not more efficient. Technology should not be used or applied just because it streamlines some process, but it is important to understand the bigger picture. Efficient solution, yes, but does it make life better?" asked futurist Perttu Pölönen.
The webinar highlighted that the development of better products and services requires the involvement of users.
"In the HIPPA project, we have developed user-driven digitalisation, because we believe that user-driven development can create solutions for service housing that help people live meaningful, unique lives and do things that are important to them," gerontology expert Panu Karhinen reminded.

"We can't know what an older person wants unless we talk to him/her. We just have to start with that. As Laura said, a good slogan is: not for, not to, but with", continued occupational therapy expert Toini Harra.
In the final webinar, the HIPPA project was made visible through several videos. We saw, among other things, how Tampere UAS co-operated with Sointu Senior Services (formerly Pirkanmaa Senior Services) in Kuuselakeskus. For instance, Medeka Ltd´s Virtual route for fitness and rehabilitation was tested there. Tarja Heinonen, HIPPA´s project manager, explained how testing and user trials were done and what kind of experiences were gained. Medeka's CEO Kalle Punto praised the support he received through HIPPA, because without the project he would not have had access to a real environment to test. There was a lot of joy in the comments of Lea Saarinen, a resident of Kuuselakeskus.
See the video about Medeka user trial in Kuuselakeskus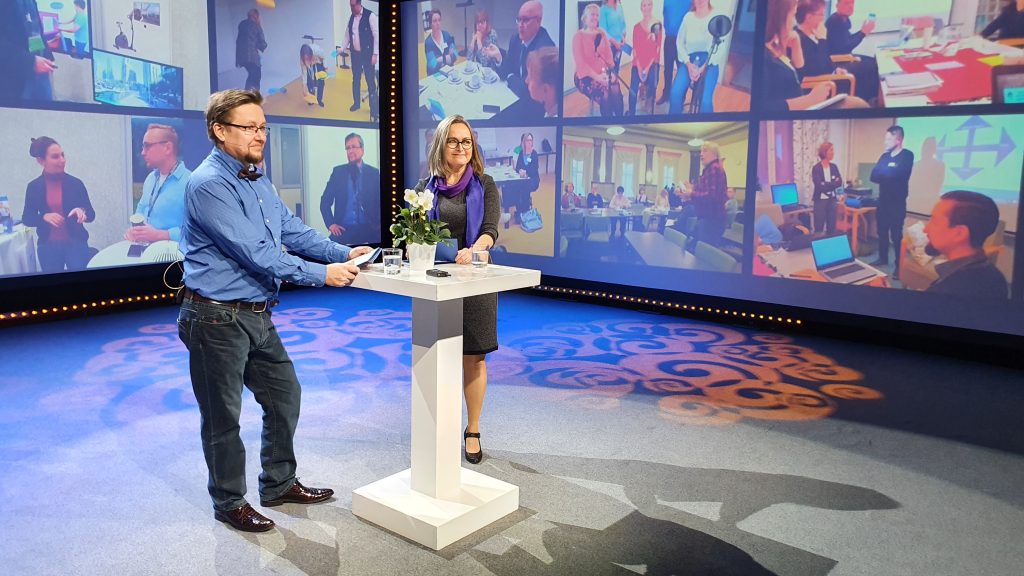 The commercialization workshops sparred the business of the companies
The HIPPA project carried out one series of commercialization workshops during the year 2020 as a remote implementation. Metropolia UAS was in charge of the workshops. The workshops sparred companies interested in developing digital products and services for the needs of service housing and home living for the elderly. Support was provided for finding new operating environments as well as markets both in Finland and internationally.
The themes of the workshops were:
Service housing and home care as an environment for the use of digital products and services
How do I find the best customers?
Financing and EU regulation – opportunities and boundary conditions for product development and exports
How do I succeed in procurement processes?
Supragarden® indoor garden system and the smart bear iXu were tested in Myllypuro Senior Centre
At the end of 2020, Kasviportaat Ltd had the opportunity to participate in a user trial of the HIPPA project at the Myllypuro Senior Center. The experiment brought together residents, staff, experts and students and produced lot of ideas for the company to further develop the product and service concept. At the same time, in the senior centre, the experience aroused thoughts on the importance of nature-assisted activities as part of the good daily life of the community. The treatment of the green wall rhythmized the residents' days, brought memories and enabled learning new things.
Watch the video of user trial of Supragarden®
JoyHaptics Ltd had a need for more information to support the product development of the iXu smart teddy bear. Above all, the company was interested in what the benefits of the iXu would be and in what situations. The experts and students of Metropolia University of Applied Sciences planned what kind of user experiment would work to get answers. Metropolia's MINNO innovation project investigated the functionality of a teddy bear in young users. Jussi Tuovinen, CEO of JoyHaptics, and Kai Martesuo, Product Development Manager, also popped up at the Myllypuro Senior Center to test how iXu feels to an elderly resident.
Watch the video of product development of Ixu smart bear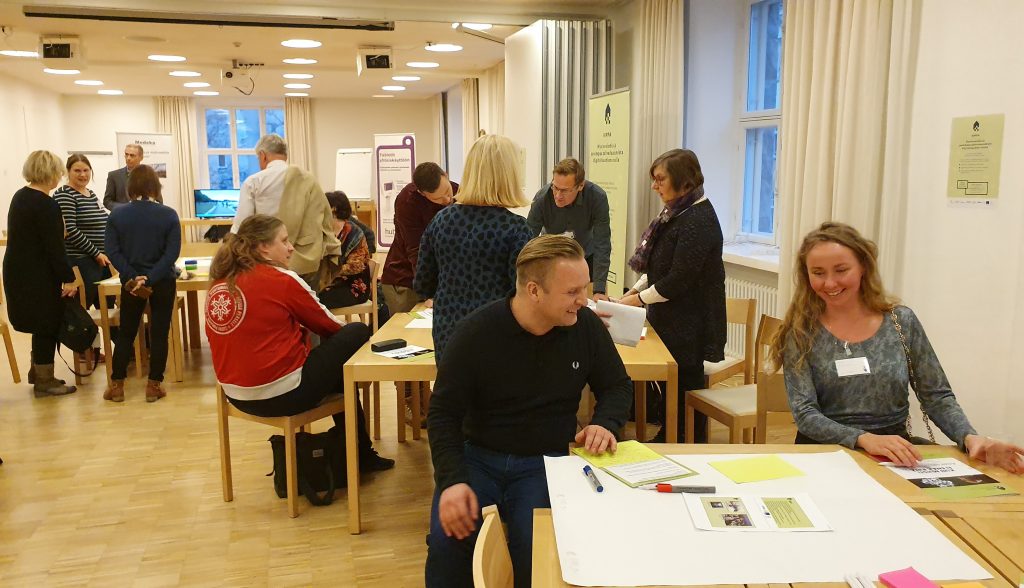 Developers' Clubs as anchors of development collaboration
Developers' Clubs mode of operation emerged during the HIPPA project, Well-Being and Better Service Housing through Digitalisation. The UAS involved in the project, Metropolia UAS, Tampere UAS and Oulu UAS have developed and modelled it amongst themselves, and also together with their own stakeholders and collaboration partners. The developed model can be widely applied in supporting companies' product and service development, or network-based collaboration in general.
Read more abot Developer´s Club
Demands of smart living for building service systems
Metropolia, Oulu and Tampere universities of applied sciences and cities of Helsinki and Oulu as well as private companies are developing digital services for assisted living facilities together in the HIPPA – Wellbeing and better service housing through digitalisation -project. Many of the developed solutions can however be used also in other forms of housing. The developed solutions also enable older people to live and enjoy living at home longer. Many services include IT solutions of their own. In future, we should also think what kind of demands are required for buildings' own service systems to enable them to have a role and potential for acting as a service platform.
Read more about the demands of smart living

From co-creation to user experiment: case Hublet
In December 2019, a user experiment planning event was organized together with Hublet Oy in the City of Helsinki's senior center in Myllypuro. During the event, a framework and a preliminary plan for the Hublet Tablet user experiment were co-created.
The Hublet Solution offers customized digital content equally and easily for everyone in libraries, hospitals and service houses, for example. It is an all-in-one tool for learning, communication, and entertainment. The Hublet Tablet is a tablet for shared use that is always ready for use. Hublet lets you access the digital world safely and privately.
Watch the video about the user trial of Hublet
Thank you for the learning journey together! Hope to see you soon!


Addresses gathered from: Metropolia´s client and stakeholders register and HIPPA´s own subscribers´ list.
See our privacy policy here.
More information:
, , .