03/02/2020 - Minna Kilpeläinen
HIPPA´s collaboration companies presented their work in Assistive Technology -event in Tampere
HIPPA had its department at the Assistive Technology -event Apuvälinemessut from 7th to 9th November 2019. HIPPA´s collaboration companies were also featured in Hippa's shelter. The experience was rewarding for everyone: networking, new contacts and some sales for companies, too. HIPPA also launched a new innovation competition, where the challenge was to find digital products and services that support functional living with possibilities to participate, improve safe living and enhance the meaning and quality of living. The competition was open until January 15, 2020.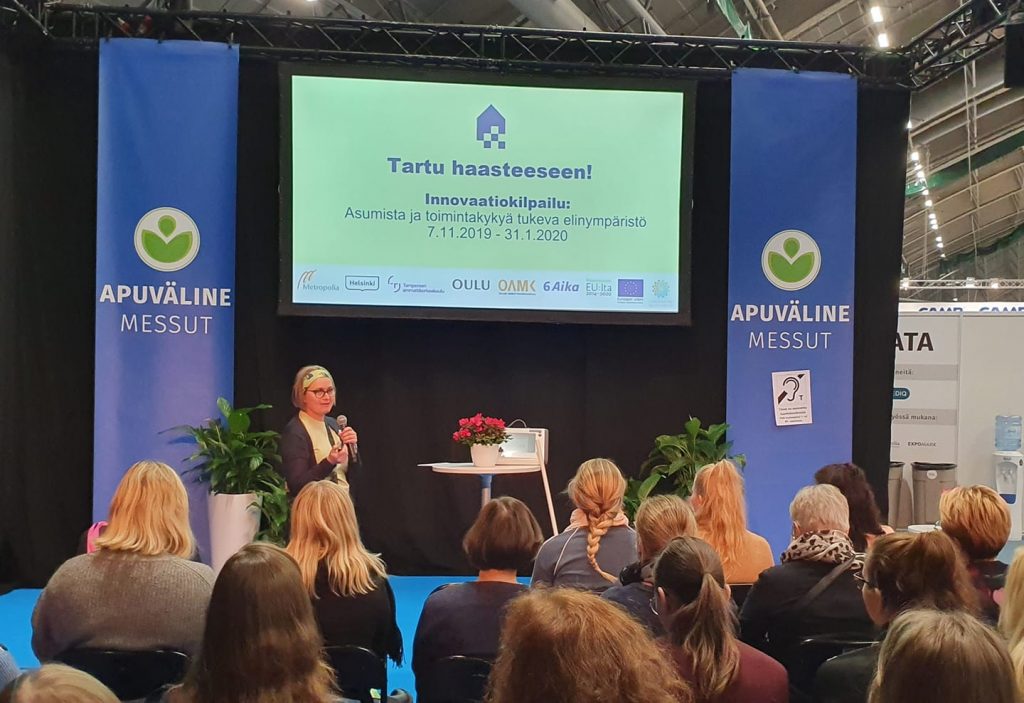 The companies Solentium, Kwork Innovations, LivingSkills, Onerva Hoivaviestintä, Medeka, Memocate and Voimin were involved the Assistive Technology -event Apuvälinemessut with HIPPA. All of them also had a presentation for the event´s audience. According to the feedback from the companies, they mainly wanted to find new customer contacts and partners. Visibility together with HIPPA was important for companies.
Kaisa Nyberg from LivingSkills wanted to tell the audience that motivation and rehabilitation are about genuine participation. LivingSkills has developed a digital motivation tool that strengthens the motivation of a rehabilitee to work to enhance personal recovery. The tool involves the client into the centre of their own rehabilitation by reinforcing the dialogue between the client and the coach. Nyberg attracted partners, potential customers and even export opportunities in HIPPA´s stand.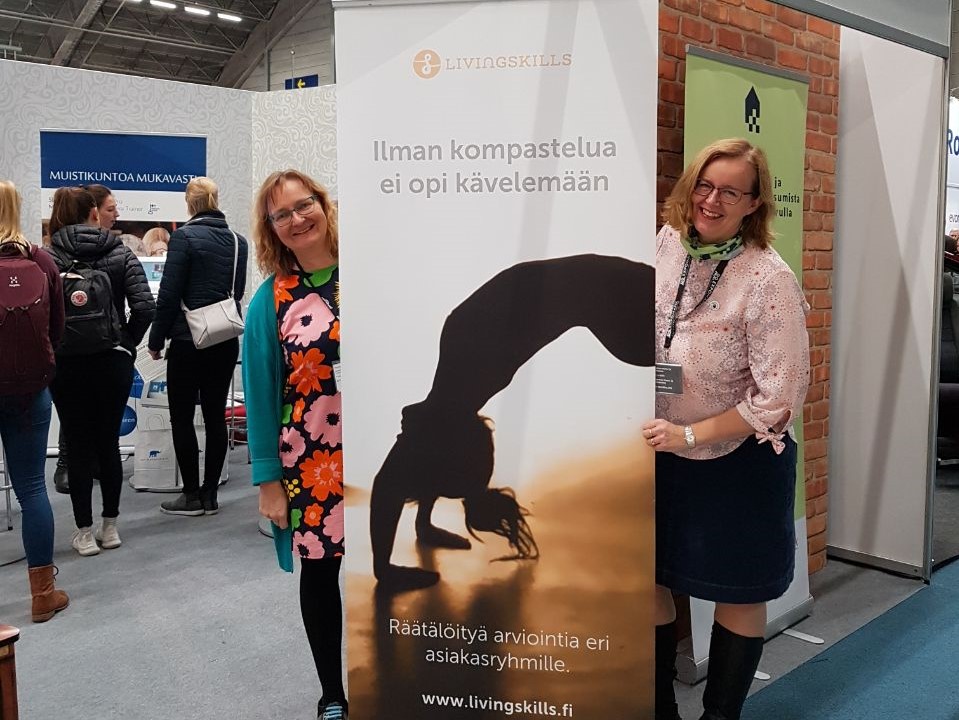 Mari Kuuttila from Kwork Innovations introduced Chatbot at the fair and explained how it can be used in health care. "The change in people's behaviour has created the opportunity to implement chatbot services. Among other things, the use of instant messaging has increased and information is sought independently, quickly and flexibly", said Mari Kuuttila. According to her, Chatbot allows very flexible, safe and fast data handling.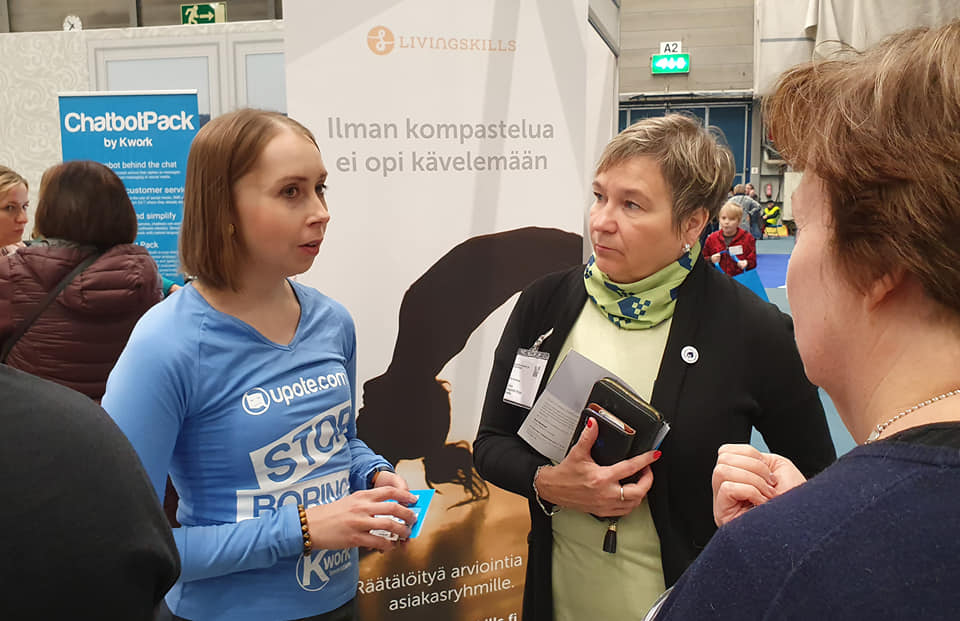 Janne Rouhiainen from Solentium emphasized that rehabilitation must feel good and bring some joy to everyday life. Solentium has developed a memory game and a rehabilitation game, which are suitably challenging but also relaxing to use. Rehabilitation takes place under the guise of play almost unnoticed.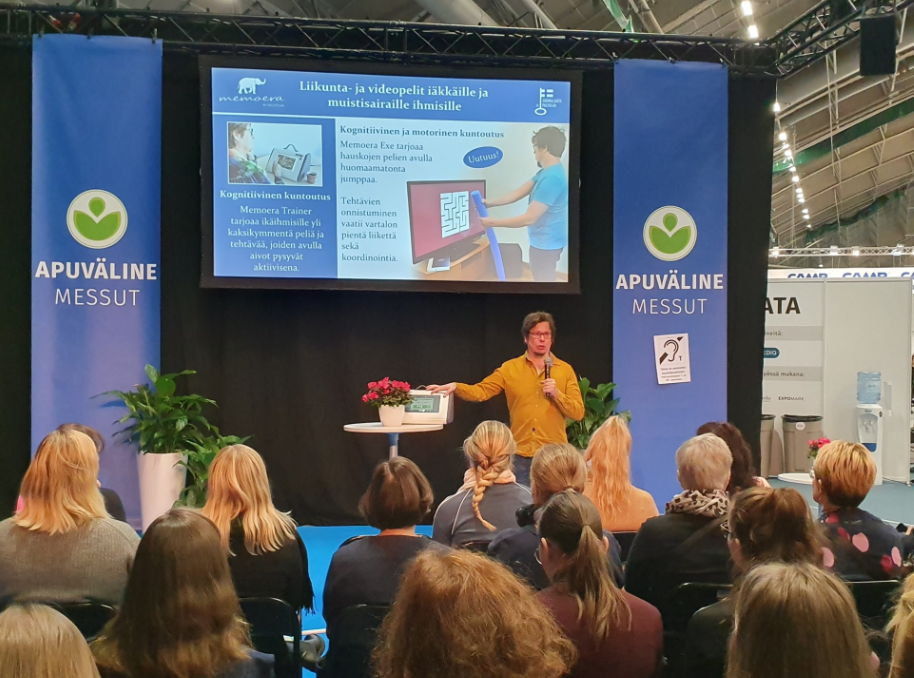 Medeka's Kalle Punto presented the Reitti (Route) software solution, which increases the motivation for training and rehabilitation. Punto was very pleased with his collaboration with HIPPA: he felt that through HIPPA project he could prove Reitti to be an excellent demonstration of the improvement of motivation in a real environment in the gym of the Pirkanmaa Senior Services´ Kuuselakeskus. The testing process of HIPPA had provided Medeka with much-needed information and the production was also commercialized. Kalle Punto got more customer contacts from Apuvälinemessut.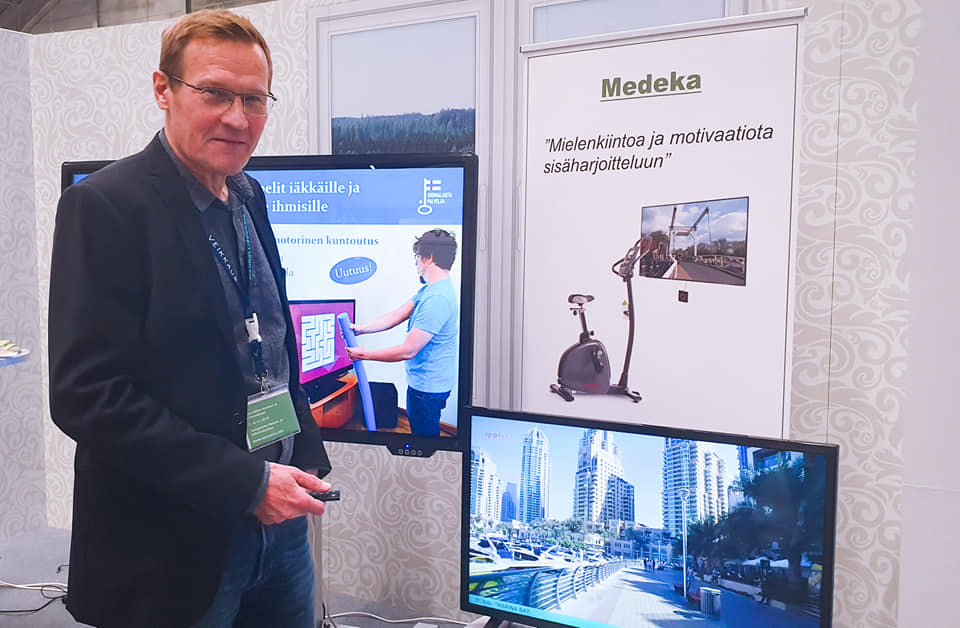 Memocate presented an interactive training programme to professionals involved in the treatment of memory disorders. In her speech, Sanna Kaski emphasized that the role of the nurse is to facilitate the interaction so that it is easy for the person with a memory disorder to express him-/herself.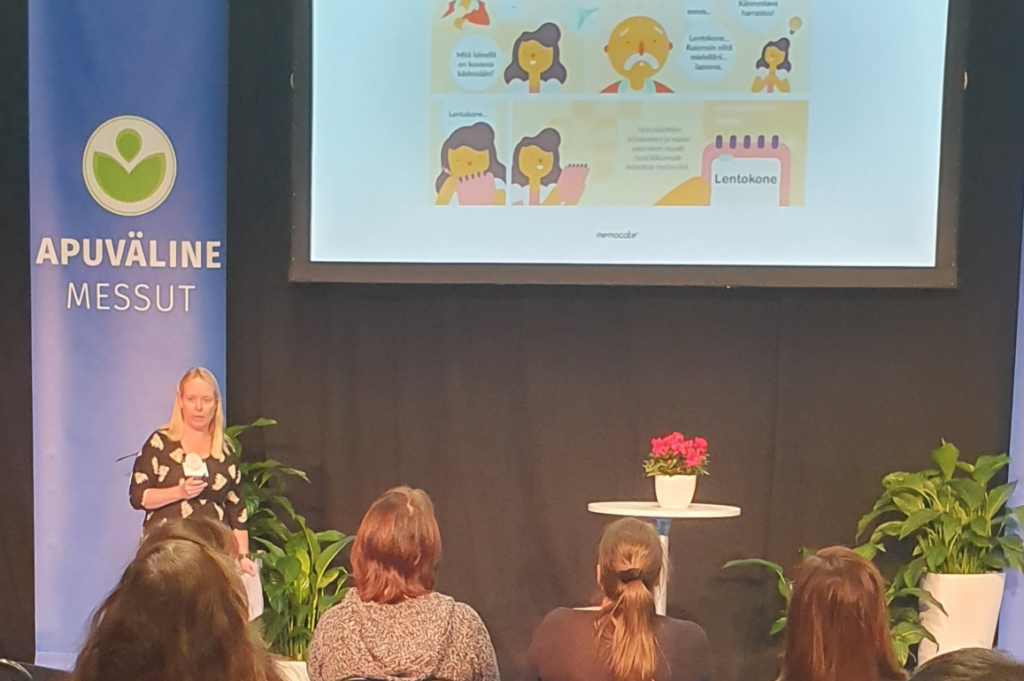 Ville Niemijärvi of Onerva introduced a voice-guided virtual assistant to the elderly. Onerva has developed its product also with HIPPA processes and received support as an entrepreneur. "Developing artificial intelligence and robotics requires collaboration between customers, service providers and technology developers. Finland offers an excellent opportunity for this with various testbeds, living labs, etc. Collaboration with the public sector, for example, works well", Niemijärvi said.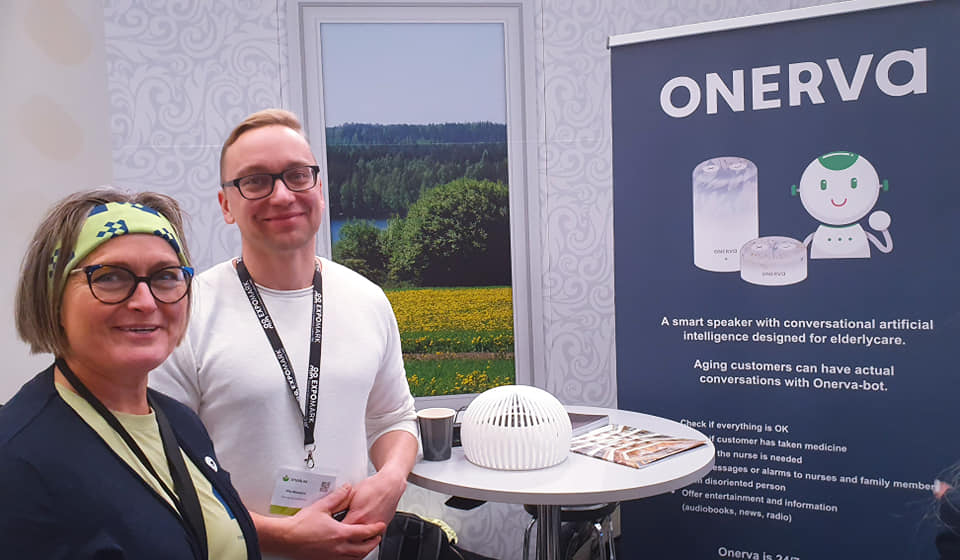 Hanna Holma and Satu Niskanen from Voimin participated in the event to discuss the home rehabilitation. According to them, home rehabilitation costs the municipality more than home care at first, but in the long run, it saves significantly when it comes to resolving everyday challenges and tasks on his/her own. Voimin gained new partners at Apuvälinemessut and also networked with the other companies involved in HIPPA. They got ideas about how digitalisation could make home rehabilitation more fluent. For example, LivingSkills, which focuses on improving rehabilitation motivation, had inspirational potential from the perspective of Voimin.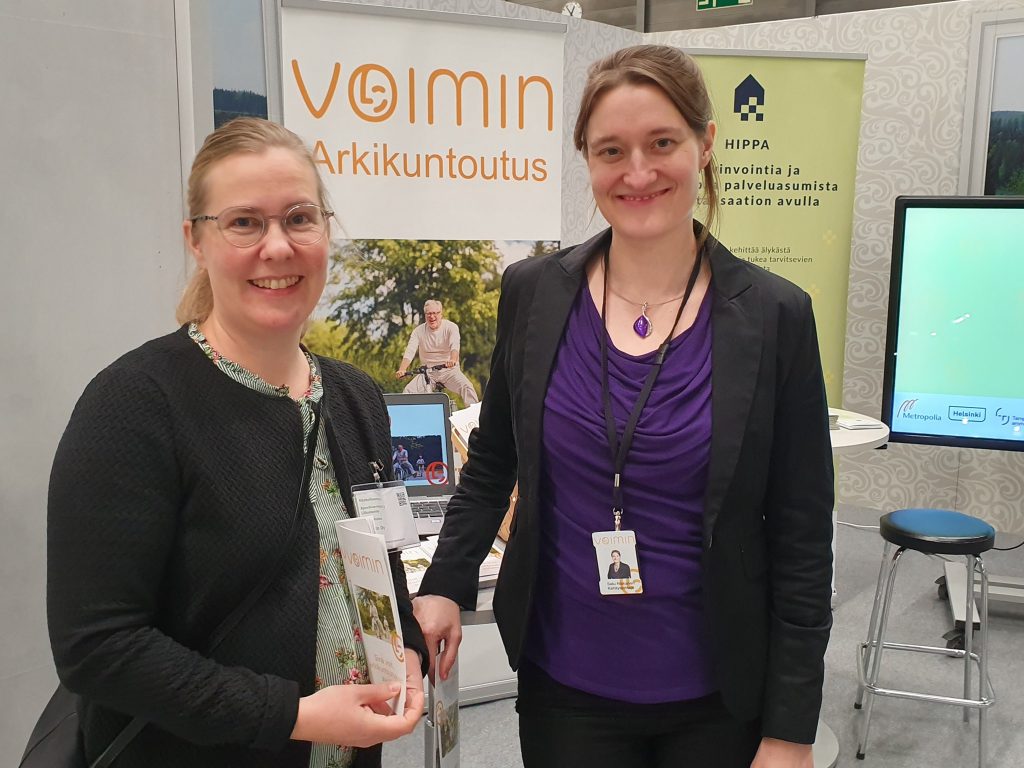 HIPPA also asked the visitors of the event their preferences for the meaningful living environment. There were any dreams, needs and aspirations written to the flip papers and several people had the same thoughts. 22 respondents highlighted their own and unique homes. Accessibility was mentioned 14 times and safety issues 13 times. 15 respondents wanted to live close to nature and some wanted also to have pets in their home. 11 respondents wanted to have community and nice people around, and 11 needed activities and inspiration. In addition, it was desired to have peace, warmth, beauty and cleanliness in the home environment, and the services were needed close to home.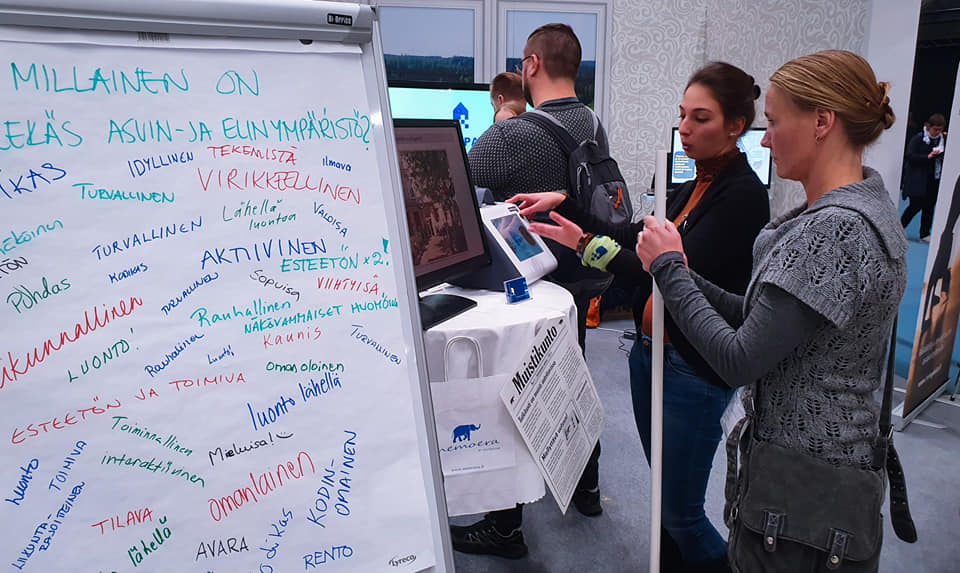 HIPPA made its work known also in three presentations. HIPPA's project managers from all three universities of applied sciences Toini Harra, Kirsi Jokinen and Tarja Heinonen, gave examples of business collaboration.
"We wanted to highlight the importance of user-driven co-creation to make solutions truly necessary and functional, and to bring well-being and safety to the residents," Kirsi Jokinen said.
On Saturday, Toini Harra focused attention on the current challenge of cybersecurity. When developing digital products for elderly care and service housing, it is particularly important that the data collected by the products and services remain secure and work only for the purpose for which they are designed. According to Harra, users of digital products and services must be well involved in the development processes and also aware of cybersecurity.
For the HIPPA team, spending three days with companies was a rewarding experience. In addition to getting new contacts between HIPPA team members from Helsinki, Tampere and Oulu but also with very many new people. It was a joy to everyone.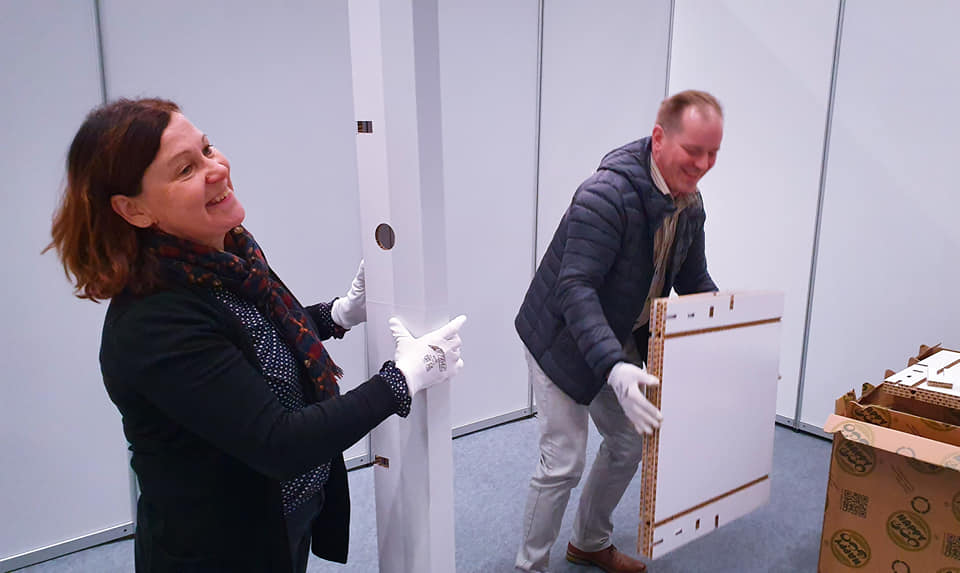 "I think HIPPA got great visibility, the department was buzzing, and the companies seemed happy to be involved. The event gave also the opportunity to visit companies whose product/service had aroused interest before the event. New collaboration possibilities were found. During the event, I was able to talk to other HIPPA team members better than usual", Suvi Hagström said.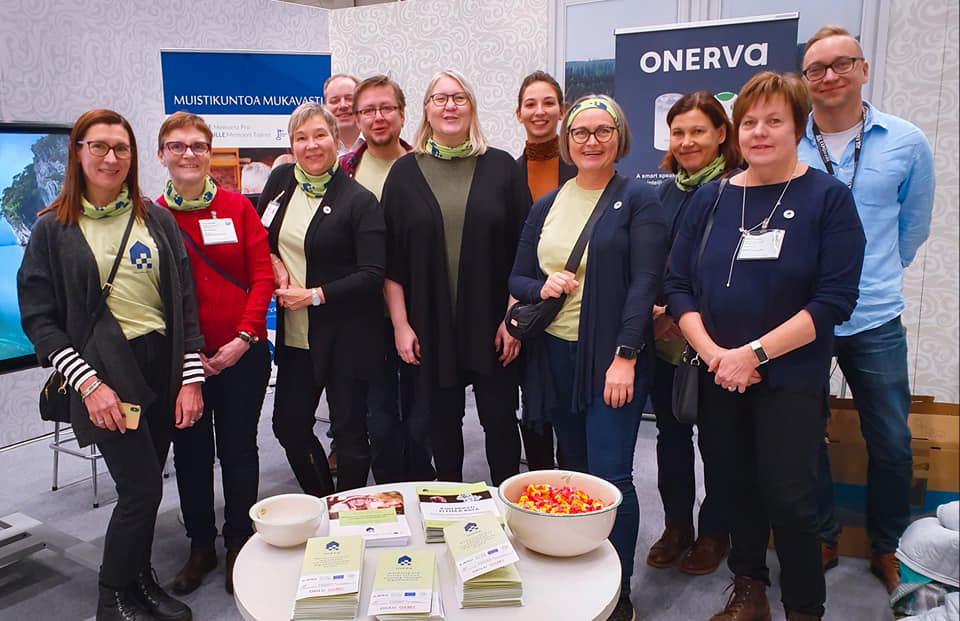 Text and photos: Minna Kilpeläinen
More photos on Facebook:
https://bit.ly/2QWY91e
https://bit.ly/2XQOXg8
https://bit.ly/2Or3qw5
https://bit.ly/34v8rJK