05/02/2020 - Toini Harra
Happy moments belong to a good life
HIPPA project organized on 20 March 2019 Kansalais-Soteuttamo, a dialogical event concerning better service housing. A lot of citizens, higher education, policymakers and service producers participated in the equal discussion. The event was organized in collaboration with the Sitra's Soteuttamo project. In the organizer group, there were beside of HIPPA also Well-being businesses in new hands -project (Hyvinvointiyritykset kiertoon) and In Safe Hands at Home -project (Hyvissä handuissa himassa).
The event took the form of a constructive public discourse (called Timeout) to better understand the key factors involved in developing. Timeout is a discursive method for offering an opportunity to pause and consider things in peace. The focus in small group discussions was in digital services and products. The discussions raised the voice of current and future service users. The event was finalized with a panel discussion in which the results of small group discussions were shared to all of the participants. This blog post focuses specifically on the needs and valuations of services raised by the panellists and insights generated during the small group discussions.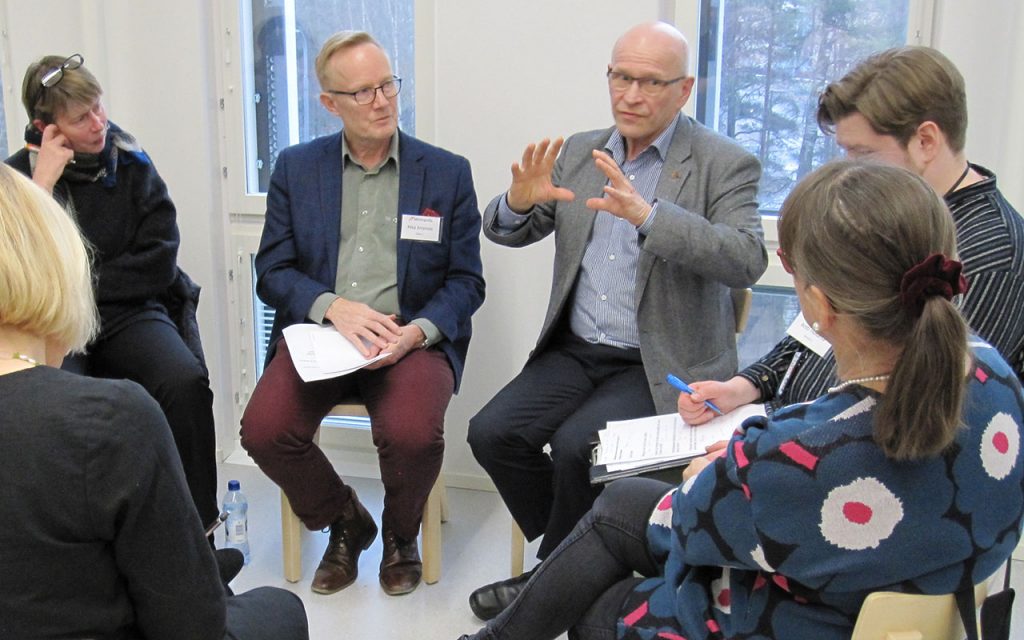 Now is the time to make changes to the services of the elderly. "One cannot offer everything to everyone, but the services and products must be organized individually and in a versatile way," one of the Erätauko-discussion´s contributors commented. Humanity and the quality of the services must be taken into account in decision-making, in politics, in the economy –  in all encounters. The needs and values ​​of professionals and residents must be taken into account when developing the services. (Harra and Lintula 2018a.)
Man is an expert in his own life. Therefore, one must make one's own voice and resources available. But how does a client make their voice heard when developers planning a day-to-day or rehabilitation service? It succeeds by taking into consideration humanity, the meaningfulness of everyday life, respect, openness and trust. You need to create a respectful atmosphere and ask people what they need in their daily lives to support their agency. (Harra and LIntula 2018b.)
What about evaluators, helpers and people who take things forward? In the Timeout-discussion the participants highlighted the need for interprofessional dialogue included with citizen, appreciative leadership, positivity and time to be human. It is important to listen to the elderly, their histories, life experiences, knowledge and skills, and to be friends with the lonely. Collaboration between people of different ages enables the transfer of experience and know-how and the use of potential possibilities. Sometimes brilliant ideas can be found in new areas, new ideas and models.
Lifecycle living supports communal living
According to several European and American research, communal living improves the quality of life and well-being (Jolanki et al. 2017). Participants in the Timeout-discussion felt that meeting possibilities like-minded people and building activities for safety nets should be ensured. Communality was seen as an opportunity in this regard. It would increase the courage to ask for and offer help, help to hear and to be heard, to be interested, and to smile at each other.
On the other hand, communality should be a free choice so that everyone can be alone whenever they want. Especially for older people, communal living is not always self-selected due to health factors (Jolanki et al. 2017). Older people need communal living, which can mean people of different ages living in the same houses and neighbourhoods. Communal living would enable intergenerational activities and meeting people of different ages.
The so-called lifecycle living model is needed also in the future. One example is represented by the Life Cycle Quarter to be built in Tesoma, Tampere. At Tesoma Life Cycle Quarter, construction, housing, services and community are integrated as an ecosystem that connects the needs and functions of people in different stages of life. The aim is for residents to be able to live in the block for up to their entire lives, even though the size and housing needs of the housing community and family are changing.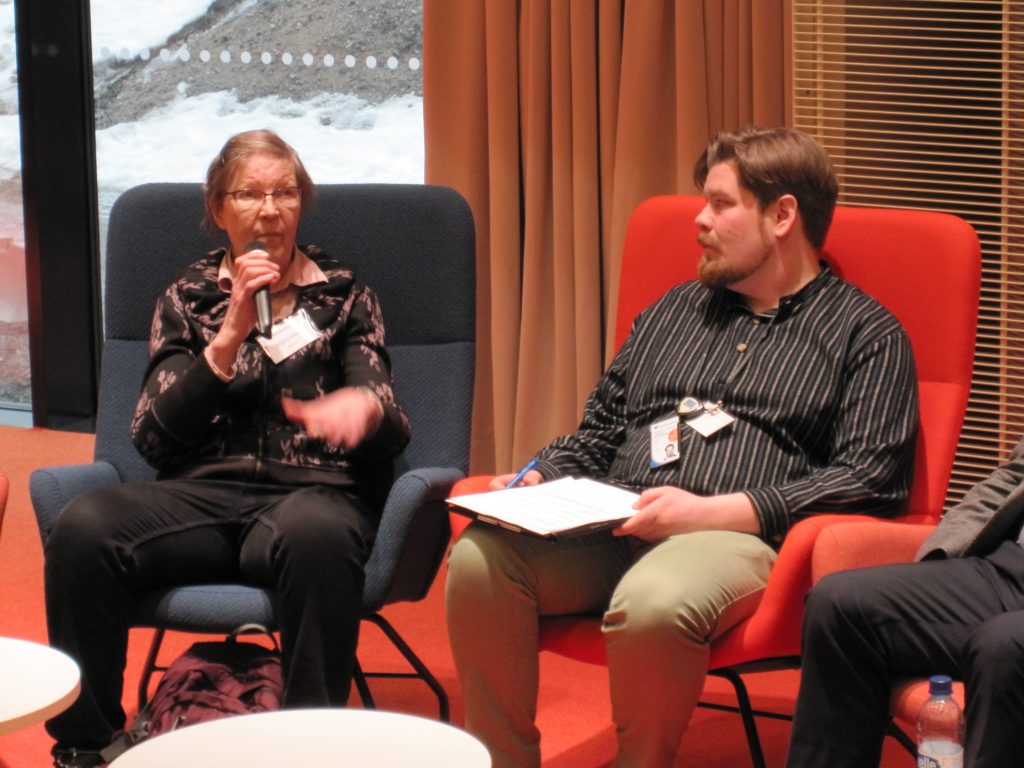 Neighbourhood activities bring joy to single living
The community of residents can be increased, for example, through neighbourhood activities developed in the metropolitan area (Ataçocuğu 2018). In the Herttoniemi area, operations have spread around Helsinki. The idea is that the activity is open to all residents and takes into account the lonely elderly people in the area. They are offered a living room-type meeting-point where they can chat and have a coffee. All the neighbourhoods are different. It only needs one volunteer launcher and free and unobstructed space to start it.
In the future, hopefully, you will also be able to sign up for housing-related services when renting an apartment. These services can be, for example, laundry services, cleaning, babysitting, technology management, taking care of things, or even helping to hang the curtains.

"The good life of every person looks like their own"
The discussion revealed that a good daily life is built with one's own mind, with other people, and with the environment. It was hoped that everyone would be heard and seen as themselves at different stages of their lives. Humanity, respect and empathy should be present in the whole of society because human dignity comes only through contact with other people.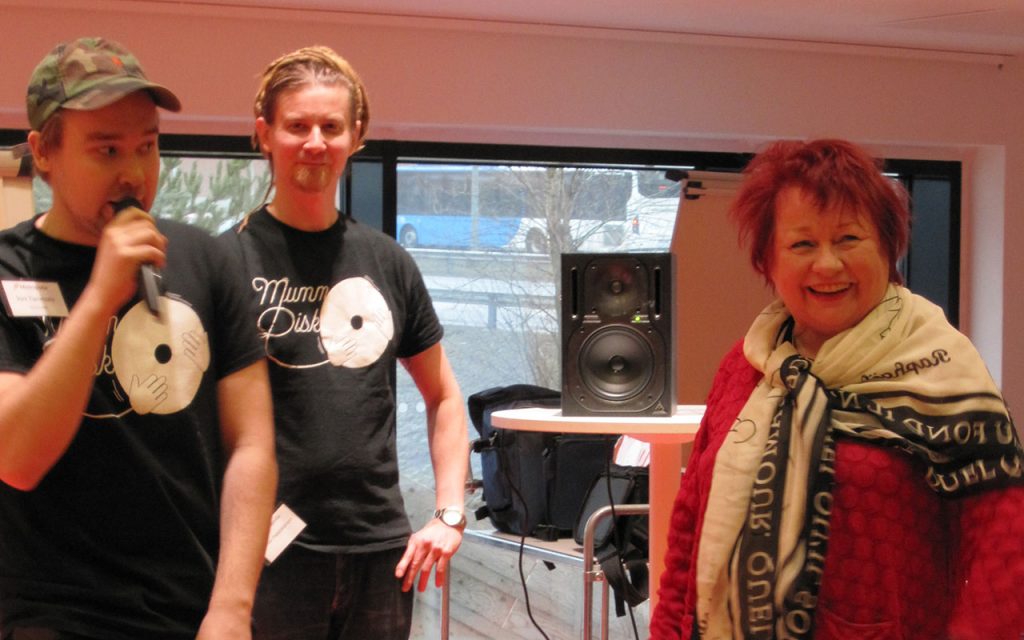 Regardless of age, universal things for all people are a sense of security, a good and balanced life, health, freedom and friends. Everyone should have the right to their own interests, such as nature, garden, family, children and grandchildren. Also, the activities of daily living and self-care are also important:: a positive attitude to life, sleep and rest, hobbies, keeping up with the passing time and being involved. Happy everyday life is happening right now!
Serenity is important in everyday life that goes beyond generations. On the other hand, there can be great differences in experiences and the points of view between generations and also many different visions of the future. During the small group discussions, great insights were made about communality and the future: "What we all have in common is that all of us wants to discuss and make visions about the world in a positive way."

"The service that looks like me is humane and self-defined"
There should be more and more visibly available assistance, so as to dare to ask for it. Easy-to-reach, low-threshold encounters would be needed. On the other hand, detective work is needed to find those who need help. Services should be designed to take into account individuals and their needs. Good services are flexible, customized and self-defined.
There is a need for personal contact, equality, and a coaching and stimulating atmosphere. Regardless of age, people should have the right to hold on to things that are important to themselves. It is not a matter of putting things on a particular mould, but more acceptance of differences of the elderly.

"Get old in time"
Old age is a precious stage in life. In addition to proactive services, preparing one´s own ageing should be done in a timely manner. Planning your own ageing requires information about building a new everyday life. This means information about volunteering opportunities, forms of living, resident associations, neighbourhood circle activities and organizations, possibilities of mobility, exercise and hobbies, transportation, and the digital and other services available.
In an increasingly digital and web-based world of tomorrow, common everyday activities, such as banking and healthcare, are increasingly accessible only by smart devices that are not yet designed for the elderly. In order to survive in the digital world, older people need support in addition to their smart devices.
"Get to know in time what is ahead of you and make bold choices. Ageing is not the end of life, but the beginning of the rest of your life. "

Photos: Anu Ipatti
Writers:
Toini Harra is an occupational therapist, Licentiate of Philosophy and Doctor of Social Sciences. She works as a principal lecturer in Metropolia University of Applied Sciences. Toini has been working as an expert of user-centred orientation and researcher in PaDigi project and project manager in project 6Aika: HIPPA – Wellbeing and Better Sheltered housing through Digitalisation.
Leila Lintula is an occupational therapist and Master of Health Science. She works as a senior lecturer in Metropolia University of Applied Sciences, School of Wellbeing. Leila has been working as a researcher of user-centred orientation in PaDigi project and works as an expert of wellbeing and participation in project 6Aika: HIPPA – Wellbeing and Better Sheltered housing through Digitalisation. She is interested in the individual's coping in everyday life and the solutions that support it.
References):
Ataçocuğu, Soile 2018. Naapuruuspiiri yhdistää naapurit, yrittäjät ja vapaaehtoiset. Ympäristöministeriö. Alkuperäinen julkaisu 2016. Available in Finnish: https://www.ymparisto.fi/fi-FI/Asuminen/Ikaantyneiden_asuminen/Puheenvuoroja/20142016/Soile_Atacocugu_Naapuruuspiiri_yhdistaa_%2837671%29
Harra, Toini ja Lintula, Leila 2018a. Arvot ohjaavat käyttäjälähtöistä kehittämistä. Metropolia Ammattikorkeakoulu. Available in Finnish: https://blogit.metropolia.fi/geroblogi/2018/11/30/arvot-ohjaavat-kayttajalahtoista-kehittamista/
Harra, Toini ja Lintula, Leila 2018b. Käyttäjälähtöisyys älykkään palveluasumisen kehittämisessä. Metropolia Ammattikorkeakoulu. Available in Finnish: http://urn.fi/URN:ISBN:978-952-328-099-1
Hippa – Hippa Hyvinvointia ja parempaa palveluasumista digitalisaation avulla 2018. Available in Finnish: https://6aika.fi/uusi-hippa-hanke-kehittaa-alykasta-palveluasumista/
Jolanki, Outi, Leinonen, Emilia, Rajaniemi, Jere, Rappe, Erja, Räsänen, Tiina, Teittinen, Outi ja Topo, Päivi. 2017. Asumisen yhteisöllisyys ja hyvä vanhuus. Valtioneuvoston selvitys- ja tutkimustoiminnan julkaisusarja 47/2017.
Onnellista lähiöasumista elinkaarikorttelissa. Available in Finnish: http://omatesoma.fi/elinkaarikortteli
Timeout. Available https://www.sitra.fi/en/timeout/#dialogue-tools