02/09/2019 - Minna Kilpeläinen
HIPPA Newsletter 1 / 2019
Quick start: great interest from companies
The HIPPA project´s development processes with companies started in spring 2019. The project aims to provide support services to 80 companies by the end of 2020. In the spring of 2019, more than thirty companies started their processes. With some companies we agreed to start processes in the fall of 2019.
The project will design company-specific processes that will involve service houses and project experts as well as relatives and representatives of different associations on the field. Process schedules are adjusted to match the project´s and companies´ resources.
The HIPPA Developer Clubs of Smart Service Housing met for the first time in Oulu, Tampere and Helsinki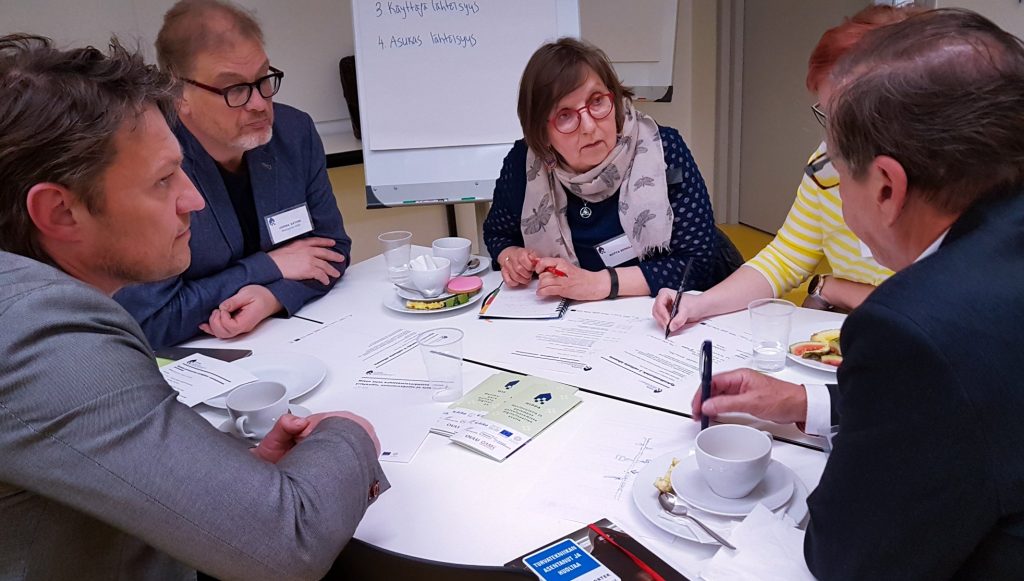 The HIPPA project brings together in each implementing city its own Developer Clubs of Smart Service Housing. They can be attended by companies, service providers, residents, relatives, NGOs, students and experts, and other interested parties. Developer Clubs are co-developing the HIPPA project approach to help develop smart service housing solutions for both businesses and users of products and services.
The Developer Clubs met in Oulu on January 23rd, in Tampere on April 10th and Helsinki May 6th.
Wide range of experts at Oulu Developer Club
Developer Club formulated innovation challenges
For the first time, Oulu actors and regional stakeholders gathered at a common table at the Oulu City Education Center Kirkkotori as a Developer Club of Smart Service Housing on January 23rd. The themes of the meeting were the launch of a developer club activity and the planning of a regional activity and innovation competition. About 20 people attended the first meeting.
The challenges of the first innovation competition were formulated in the club meeting. Oulu wanted to find solutions that 1) activate safe outdoor activities and 2) improve safe, digital communication for residents, professionals and the entire living community.
Accessibility is not noticed until it is missing – Tampere Developer Club met on April 10th
In Tampere's first Developer Club meeting on April 10th, the most important future needs for service housing were identified. The development of intelligent service housing was discussed from the construction and accessibility point of view. Nutrition was also a theme. The TAMK Catering Studio, which was the place of the Developer Club meeting, served as a learning environment for TAMK Bachelor students of Hospitality Management.
The Developer Club members heard through a concrete example how companies can benefit from co-creation or testing by participating in the HIPPA project. Kalle Punto, Managing Director of Medeka Oy, told about the company's experience in testing its product in the HIPPA project.
Club members also created challenges for the Tampere innovation competition which will be held in the fall 2019. The housing and construction theme was seen as an appropriate theme. Ageing will increase the demand for accessible housing: by 2030, 1,000,000 new homes of unobstructed access will be needed. Elina Ritola, a lecturer of Building and Environmental Technology in HIPPA project team, pointed out that accessibility is often only noticed when it is missing.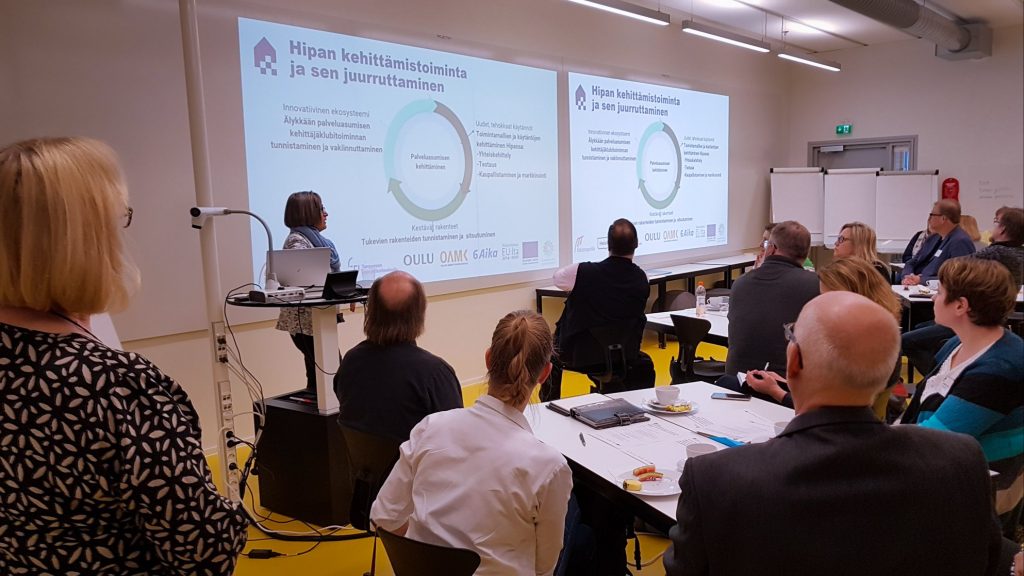 The Helsinki Developer Club looked at services from the perspective of businesses and customers
The Helsinki Developer Club met in Metropolia on May 6, 2019. The club highlighted the needs of service housing customers and the challenges that companies meet when developing better digital products and services for service housing. Project manager Toini Harra told about the needs that were gathered earlier in different surveys and workshops. The results of a civil conversation event Kansalais-Soteuttamo, that was held in Helsinki in March, were also presented for further discussion.
In the club, those needs were specified more: we asked, what is the best way to identify and communicate them to companies, experts and researchers to improve the development work. In addition, club members were looking for answers on how to improve testing. Good tips were also provided to identify, how the companies should improve their skills and how they can ensure the marketability of their products and services.
See some moments from Helsinki Developer Club on Facebook.

If you would like to be part of the Developer Club of Smart Service Housing, please contact the Project Managers:
Metropolia: Toini Harra (, tel: +358 40 334 6102)
TAMK: Tarja Heinonen (, tel: +358 50 5685354)
Oamk: Kirsi Jokinen (, tel: +358 50 591 9896)
The voice of residents and social- and health care professionals was heard in Oulu – work will continue during fall 2019
During the fall of 2018 and spring of 2019, the HIPPA project staff and the occupational therapy students gathered the needs of residents and professionals of service housing in Oulu. The information was gathered from elderly people and residents of service housing in homes and workshops. Professionals filled in a survey online. There were 50 participants of the workshops, interviews and survey.

Residents needed safe outdoor activities, meaningful activities in general and possibilities to participate, access to information and peer support in everyday challenges. Confidentiality and better communication during professionals visiting homes and between the housing community was also needed (both the general way of informing about activity and events and one-to-one communication). Desires did not necessarily require smart solutions: the most important thing for the residents was to have at least one trusted, close person to communicate with.
Work with the residents who participated in the workshops will continue in the fall of 2019. They will be given information briefings on smart solutions that already exist. New products and services developed in the HIPPA project will be communicated to residents as the project progresses. Residents, professionals and relatives are experimenting and testing solutions developed by companies in the City of Oulu and the Service Foundation of Oulu.
Experiences with co-creation and testing:
Co-creation in developing digital products for service housing
The needs to develop future service housing will not be solved solely by increasing the number and skills of the staff. In addition to that, digital products and services are needed. Co-creation enables user-driven development of products and services. The first co-creation event was held in December 2018 with IOTAS, which develops a smart wristband.
Read tips for co-creation processes here.
"This is much nicer than staring at the white wall" – HIPPA's first user testing started in Tampere
The gym at Kuuselakeskus in Härmälä, Tampere, was filled with cheerful and pleased comments when the users tested a new exercise program. Residents of Pirkanmaa Senior Services Kuuselakeskus and Lähitori customers had an opportunity to try out Medeka´s training software with the NuStep pedal device during January-February. The testers could ride the roads of Paris and pathas in nature. This was the first product testing of HIPPA project with a co-operation company.
Read the article here
Civil conversation making impact:
Kansalais-Soteuttamo event provided positive insights on services for the elderly
HIPPA-project, Hyvinvointiyritykset kiertoon -project (project for successful transfer of ownership in the welfare sector) and Sitra´s Soteuttamo (project that developed a toolkit for social and health care reform and network development) organized a civil conversation event Kansalais-Soteuttamo in Metropolia´s Myllypuro campus in March 20th, in order to make living for elderly people better.
The afternoon of discussion and culture brought together 80 people interested in improving services for elderly people to share a common understanding of what good ageing and everyday life could be and what services would improve them. Metropolia's innovation clusters and projects promised to hear the hints and start working.
Actress Laura Jurkka made an awakening speech on ageing, letting go and the need for help. Retirees living at home, service housing residents, volunteers and professionals, social care entrepreneurs, NGOs and decision-makers, as well as various experts and students participated in the discussions led by facilitators. Everyone put the titles aside and talked from person to person. Journalist Tiina Merikanto from YLE summed up the discussions in the Aquarium discussions.
Taking individual needs into consideration, meaningful everyday life, and community support were highlighted in the discussions. Digitalisation is also part of future services. For example, "a robot can be a great friend on a shopping trip when someone is carrying the shopping bag home".
Producers of Mummodisko, Mikko Haapalainen (aka DJ Kuk Norris) and Joni Tammisto, with actress Tuija Piepponen, made the participants smile and dance at the end of the event. Everyone left home a little bit merrier.
The internal co-operation is lively in HIPPA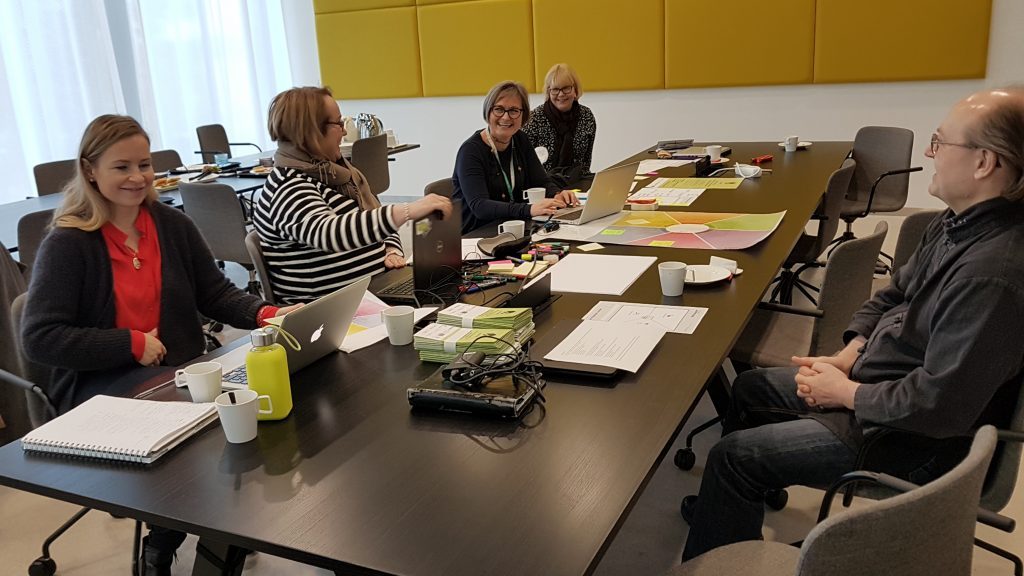 Sparring and sharing knowledge
During the first half of the year, HIPPA project implementors have sparred with each other in their specialities. Oulu University of Applied Sciences and the City of Oulu have long experience in testing processes. Tampere University of Applied Sciences specializes in commercialization and Metropolia has refined its co-creation methods.
Moments of sparring sessions on Facebook.
Spreading the word about best practices
HIPPA-team is making a handbook for the smart service housing developers
HIPPA team had a great brainstorming session at TAMK on May 21st. For whom, for what purpose and for what are we making the handbook? The Smart Housing Developer Handbook will be released on multiple media platforms in the fall of 2020.
Moments from the handbook workshop on Facebook.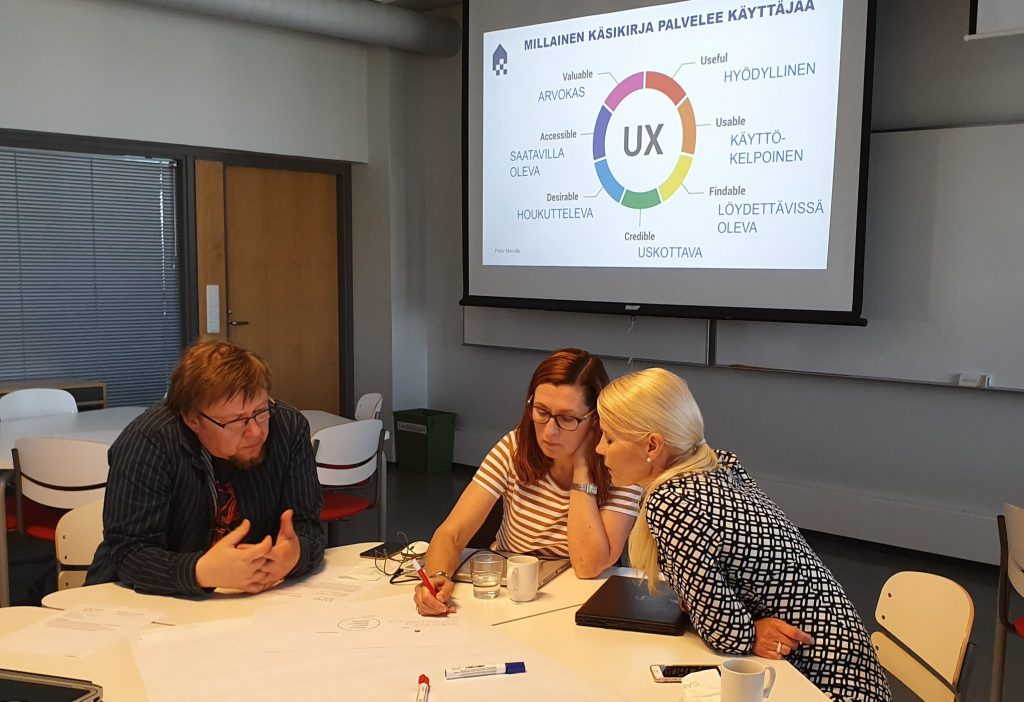 Events
Oulu UAS hosted the Wellbeing Together -Day and participated in the sOULUtions hackathon – finding solutions for mobility and security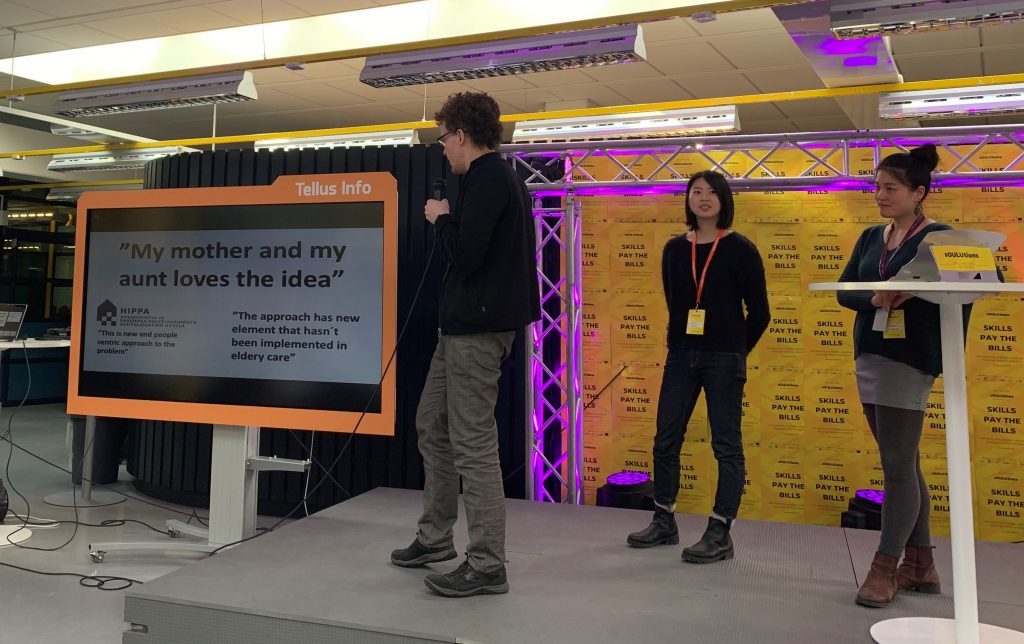 On April 10th, the Oulu University of Applied Sciences hosted Wellbeing Together -Day, which has become a tradition, bringing education stakeholders together. The HIPPA project was presented at Enabling Home with a partner company, Seniortek. Participants were introduced to their OviTurva solution, which will later be tested with students and professionals.
The HIPPA project and the City of Oulu were commissioning a challenge to find solutions for the elderly to move outdoors safely. Two international and interdisciplinary teams solved the challenge. Team FabLAb Oulu presented its solution ELVO (Elder-Volunteer service concept). The service is based on a network of helpers. If someone needs help, for example, when falling, he or she can press a button and someone from the network comes to help. The Safety First team's solution was a learning, wearable accessory that facilitates movement and anticipates potential falls, preventing falls and enabling movement.
EDELLÄ Goes Sote -event looked for solutions for a meaningful life
The HIPPA project organized a breakfast meeting for social and health care companies and students at Oulu University of Applied Sciences in cooperation with the ProVaHealth project on May 15th. EDELLÄ Goes Sote -event was held in a workshop format. A total of 20 participants attended the event.
The event focused on smart solutions to enable a safe and meaningful life through new products and services. The participants were introduced Onerva bot, a social robot for the care of the elderly and the disabled.
Eeva Kiuru, an entrepreneur from Health Innovation Academy said that in the social and health sectors, the introduction of technology requires a cultural change. Digital skills and basic understanding about technology is needed in order to participate in the development processes and evaluate new solutions in critical manner. Vice versa, engineers can learn customer- and user-driven points of view.
In the workshop, technology was seen as a solution to "routine tasks", allowing more time for personal contact. In addition, technology was thought to enable people to safely and independently engage in everyday activities and to become involved in the community and society.
Health-, social- and well-being professionals were encouraged to reflect on their own future and potential entrepreneurship as a way to influence the improvement of their own field.
DigiAgeTalk: What are the values that drive our future?
HIPPA was presented at DigiAgeTalk event, organized by Ikäteknologiakeskus (the Center for Aging Technology), in Helsinki on June 6th. Leila Lintula participated in a panel that asked: How and with what values ​​do we create our future? HIPPA had also an exhibition stand in the event.
Philosopher Marjo-Riitta Ollila's presentation about the Revolution of the Old was pure stand-up. Leila Lintula from HIPPA talked about the values ​that create our future. The panel, hosted by Raisa Rauhamaa and Marketta Mattila, also included Jaana Leikas from VTT Technical Research Center of Finland, Sami Älli from the The Finnish Association on Intellectual and Developmental Disabilities and journalist Sirkku Nyström. Highlights of the seminar was reported live on Twitter with the hashtag #DigiAgeTalk and #HIPPAhanke by @minnaliik.
Moments from the event on Facebook.
HIMMS Health 2.0 European Conference
HIPPA people Toini Harra and Harri Hahkala from Metropolia, Jaana Kokko from OuluHealth / Oulu CityLab and Sanna Hartman from Helsinki City attended HIMSS-conference (Healthcare Information and Management System Society) in 11.-13.6.2019. Over 2000 international experts, decision makers, influencers and business leaders to discuss and get inspired about innovations of digital health care and the future. The topics were Heath & Care, Ageing, Data, AI and innovations.
HIMSS was full of useful, joyful and inspiring encounters, and several new companies signed up for HIPPA´s co-creation and testing processes. We are looking forward to starting the process with new companies this fall!
See Toini Harra´s photos on Facebook and contact her, if you like to continue or start conversation about the topics.
Read more about our activities and digitalisation on our website hippa.metropolia.fi.
HIPPA on social media:
Our Facebook page "HIPPA – hyvinvointia ja parempaa palveluasumista digitalisaation avulla" (HIPPA – wellbeing and better service housing through digitalisation) provides news about HIPPA, tips about interesting events and links to articles about our topics. Like and comment! You can also give us tips on what's happening on the field or what's useful to everyone who is interested in smart service housing.
LIKE US ON FACEBOOK
On Twitter and LinkedIn you can get our news on the hashtag #HIPPAhanke. On Twitter, we do live reporting on interesting events, mainly in Finnish but also in English.

We sent you this newsletter, because we thought you might be interested in the issues related to digitalisation and service housing. Do you want to stay in tune what is happening in HIPPA and read the latest news? Did you get this letter from a friend and want to stay with us?
SUBSCRIBE TO OUR NEWSLETTER
If you don´t want to receive newsletters from us, unsubscribe here.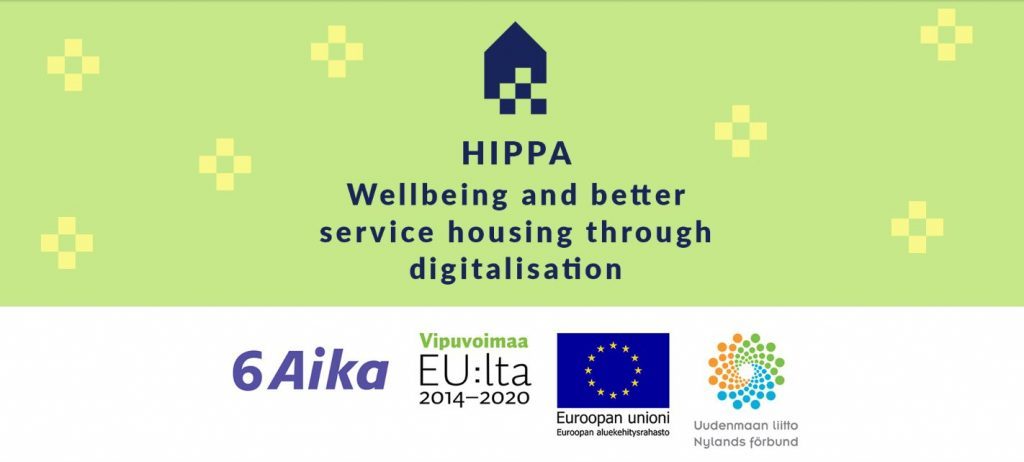 Copyright © 2018
HIPPA – wellbeing and better service housing through digitalisation
All rights reserved.

You received this newsletter because we think you are interested in developing digital technology for smart housing and better living for elderly people.
Want to change how you receive these emails?
You can update your preferences or unsubscribe from this list.
Stay with us: subscribe to our newsletter.