19/08/2019 - Tarja Heinonen
"This is much nicer than staring at the white wall" – The first user testing of Hippa project started in Tampere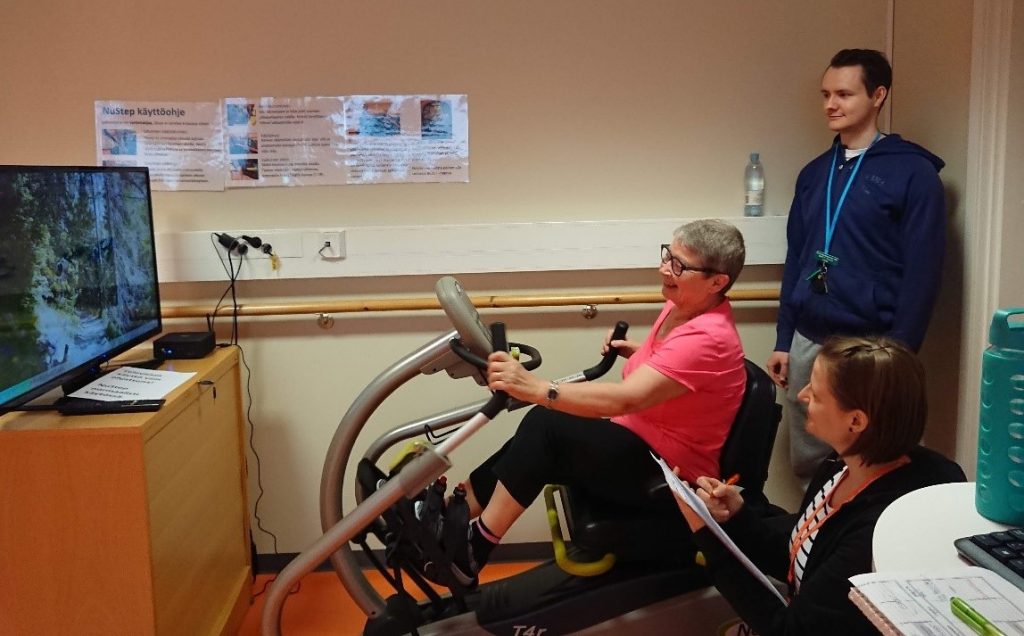 The gym at Kuusela Senior Center in Härmälä, Tampere, was filled with cheerful and pleased comments when the users tested a new exercise program. Residents of Pirkanmaa Senior Services Kuuselakeskus and Lähitori customers had an opportunity to try out Medeka Ltd´s training software with the NuStep pedal device during January-February. The testers could ride the roads of Paris and paths in nature. This was the first product testing of HIPPA project with a co-operation company.
"This is a great way to see the world – more than just Härmälä!"
Senior houses of Pirkanmaa Senior Services act as an authentic testing environment of Tampere University of Applied Sciences (TAMK) in HIPPA project. Kuusela Senior Center situated in Härmälä, Tampere, is one of them. Residents of Kuusela Senior Center and Lähitori customers exercise in the gym independently or guided. This testing is based on the company's need to get feedback from just elderly people. The exercise program of Medeka is already quite familiar among athletes but now the company has an interest to widen their market also for elderly people.
Testing was carefully planned together with TAMK, Pirkanmaa Senior Services and Medeka Oy. The objective of the testing is to provide user feedback and experience how the product is suited for this user group: does the exercise program motivate users to exercise more and how these users feel the usability of the product.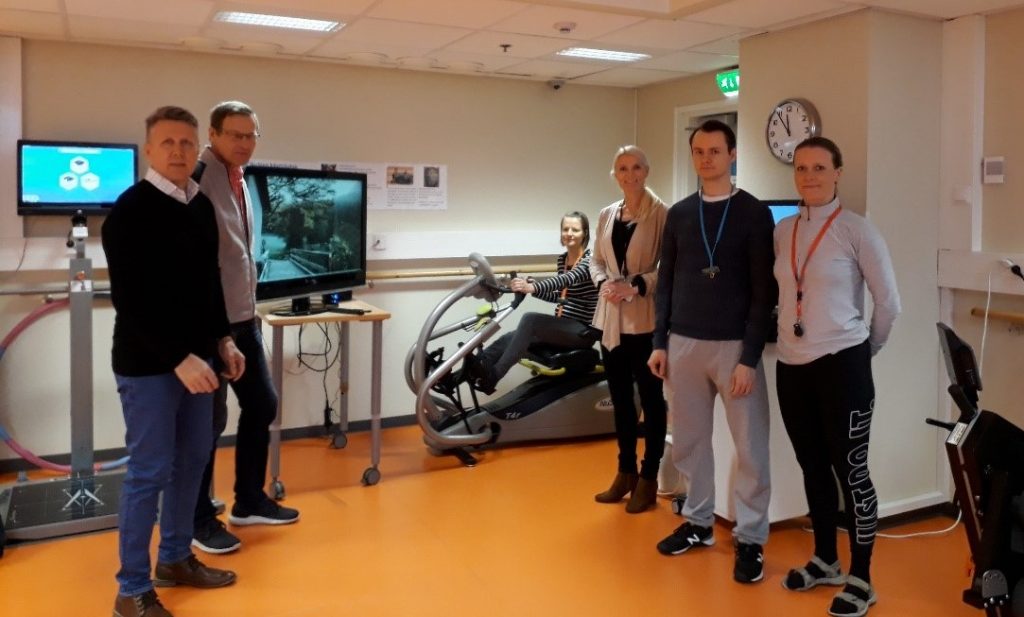 The practical implementation of testing in Kuusela Senior Center
Project manager Tarja Heinonen and project coordinator Suvi Hagström from TAMK coordinated the co-creation and testing process. Physiotherapy students Maija Hurskainen and Martti Rajala from TAMK brought a fresh view to the implementation of testing. They took their five weeks' practical training of study course "Physiotherapy for elderly" in Kuusela Senior Center. As a part of this training, they participated in HIPPA project as testers.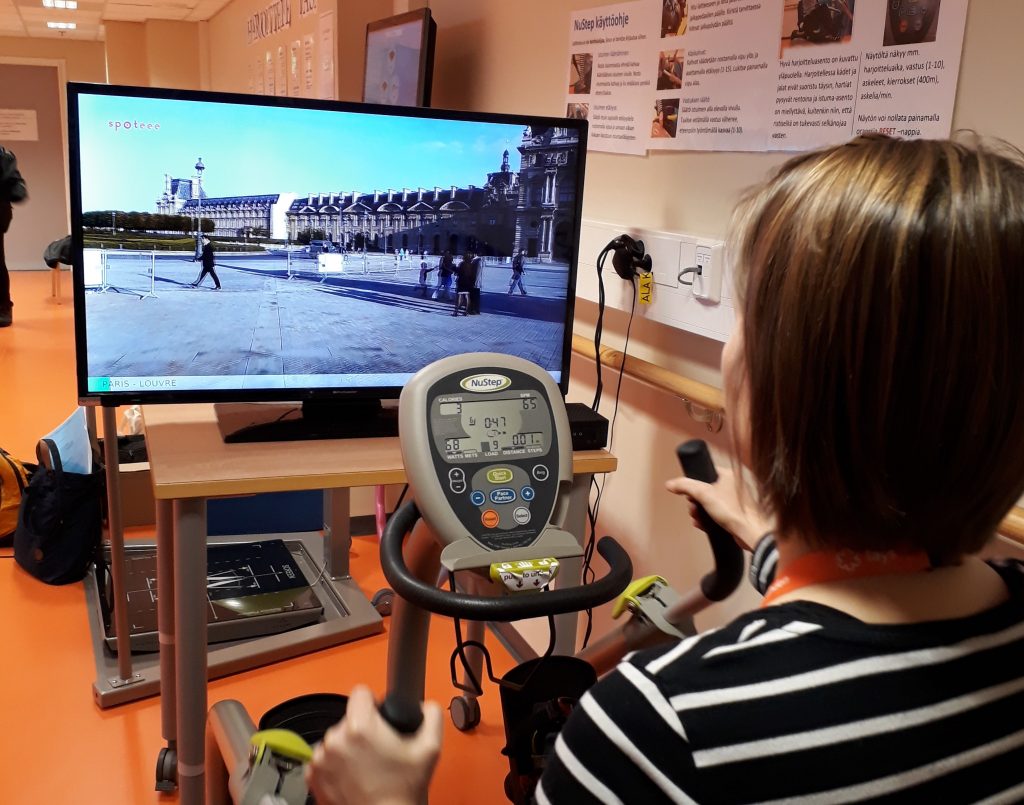 In Medeka's exercise program it's possible to choose routes between nature or cities according to user's choice while running on the treadmill or exercise biking ("video walk"/"video run"). The user is as walking, running or biking along the route. In the gym in Kuusela Senior Center NuStep-device was assembled in front of the TV. NuStep is a sitting-position cross-trainer (HUR), so it is suitable for a wide range of user groups.
Opinions of the elderly are the key point
Students Maija and Martti together with physiotherapist Marianne recruited 20 elderly persons to test the new device. The age range of users was 64-90 years. Most of them were customers of Lähitori. The test group represented very well the heterogenic group of elderly people altogether. Although many of them were very active physically.
The students guided each one of the users thoroughly to use the exercise program. This enabled the successful testing process. It's important to ensure that users feel their opinions and experiences are the most valuable issues for testers.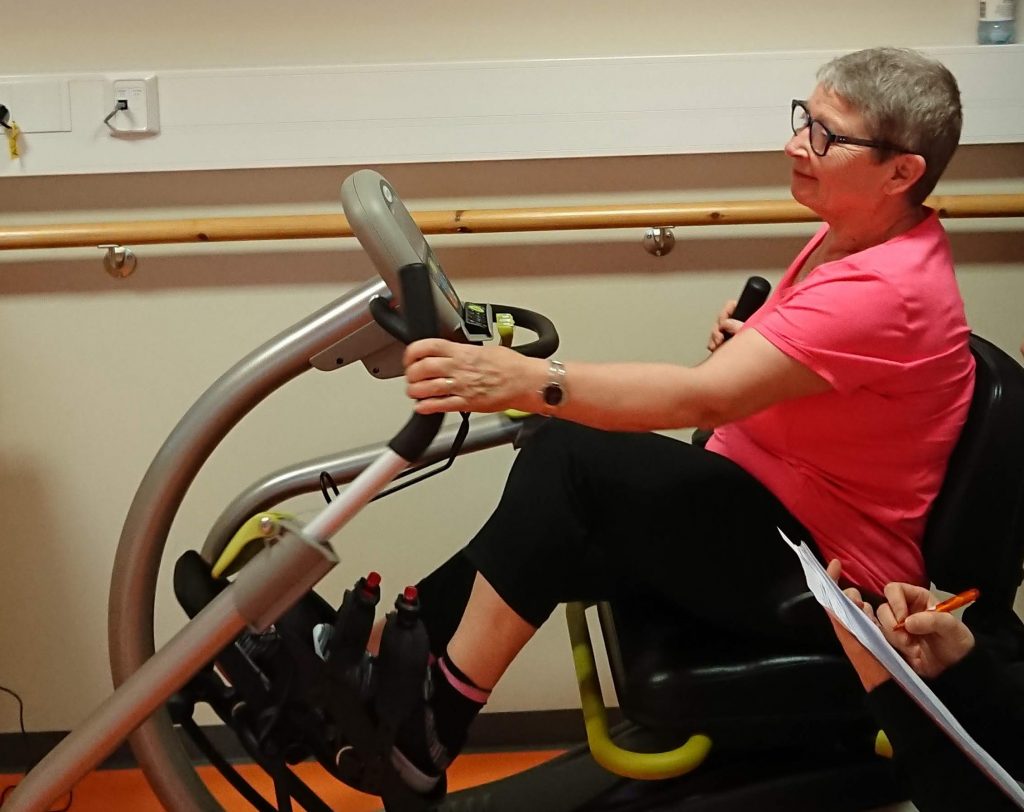 At first, users tested exercise program only guided, but after a couple of weeks, they were also able to test the program and NuStep by themselves. Students made user instructions in the wall of the gym. Immediately after that, they find a couple of enthusiastic seniors biking and warming up independently.
Travelling or exploring nature while exercising
Thanks to the testing process a lot of valuable experiences were gathered. The users seemed to be more pleased with nature routes than city routes. Nice sceneries evoke memories of own journeys and thoughts of animals and plants in woods. It was nice to choose the route of the familiar city for "video walk". For example in the route of Paris users were memorising their own trip to this nice city and the art exhibition in the Arc de Triomphe. One of the testers chose the city route because a close friend was living there. Also, the history of a certain city was a selection criterion.
"Hey, there are stairs in the Arc de Triomphe and there was also an art exhibition!"
According to the users, the routes and beautiful sceneries attracted interest and curiosity. This increases the motivation to exercise. They also tended to forget they were exercising – time was like flying! Everyone of users would recommend this exercise program to the other elderly persons: in their opinion, this was a great way to experience new things, to focus thoughts elsewhere, to activate mood, to encourage to pedal more and to get content for exercise. Also, they mentioned that even though someone couldn't get moving it's still possible to watch nice sceneries.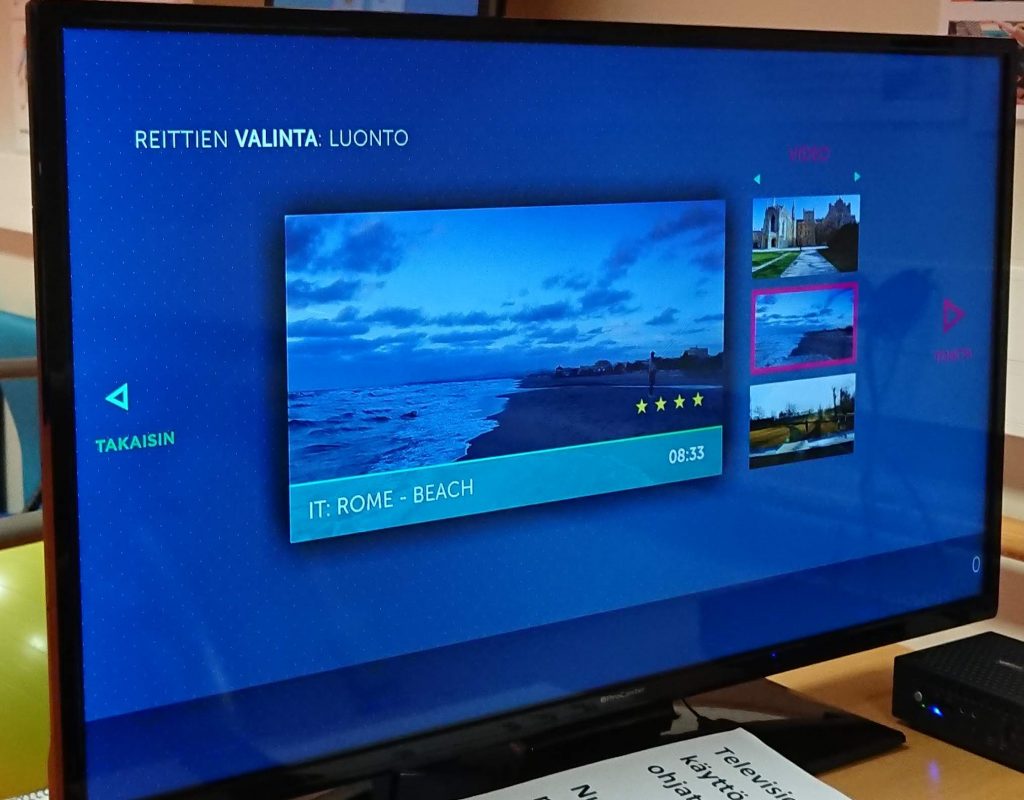 What was achieved by co-creation?
At the end of the testing process, the feedback meeting was organised in Kuusela Senior Center. There were representatives from Pirkanmaa Senior Services, Kuusela Senior Center, Medeka Ltd and TAMK including students.
The company was very satisfied with the implementation as a whole. They got very valuable feedback from genuine end-users of their product.
"Marvellous", Kalle Punto and Kimmo Ahokanto from Medeka said. " We gave project developers free hands to work and it paid off – all our expectations were met. Co-operation with TAMK worked brilliantly and we got our voice very well heard. We are more than satisfied to be part of this!"

Also, the quick and organised testing process was praised. The feedback from the testing process reinforced the company's expectation that the exercise program is well suitable for elderly people. Improvements for the product were also asked from the main characters of the testing process, elderly people. So they were almost like innovators in product development.
Directors and superiors of Pirkanmaa Senior Services and Kuusela Senior Center were also listening experiences of the testing with enthusiasm. Pirkanmaan Senior Services was interested to continue using this exercise program even after the testing period. A good feature of the product is the easy movability from one senior house to another.
Students were also satisfied with participation in HIPPA project. They got a good knowledge of project activity and work with elderly people.
Students who will be future professionals of rehabilitation were also satisfied with participation in HIPPA project. They got a good knowledge of project activity and work with elderly people. "It was nice to participate in this kind of implementation, where the goal is to find ways to motivate elderly people to exercise. We find this very important", Maija Hurskainen and Martti Rajala said.
Meeting elderly people also gave positive experiences. "It was fulfilling to communicate with elderly people more intimately. People were perhaps more willing to open up during testing than in other situations. The testing process went even better than we anticipated. People were so glad to take part in it."

Writers: Tarja Heinonen ja Suvi Hagström / TAMK
Photos: Suvi Hagström